Trending
Reekado Banks Won't Apologise For Saying He Is Better Than Lil Kesh – Manager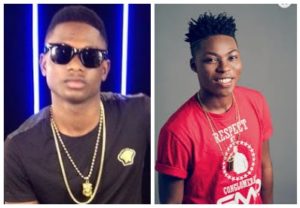 Going by Sunday Scoop report, Reekado Banks's manager and brother, Temi Solomon, insists that Reekado Banks doesn't feel sorry for saying he is a better artiste than Lil Kesh.
Sunday Scoop reached out to Reekado's manager and brother over the
statement made by the singer about being better than Lil Kesh, who
rivaled him for the 2015 Headies Next Rated award. Reekado's
manager said his brother only said what was on his mind, but he didn't
mean to hurt anyone.
He said, "It is not something I want to talk about. If certain
people were annoyed because he spoke his mind, I think those people are
not his fans. Our fans would not complain about what he said in that
manner. He didn't mean to hurt or harm anyone and we don't have
something against the artiste (Lil Kesh)."
According to Temi, Banks was not misinterpreted, neither was he under
any influence when he said he is better than Lil Kesh. He said, "If
he said he is better than someone, he probably meant it. I really want
to know the fans who were angry about it. Was it Reekado's fans or the
person's fans? He said what was on his mind and it is not compulsory for
everyone to agree with him.


"People who feel that he is arrogant because he said what he
wanted to say have their reasons to think so. If I say that one
newspaper is better than another, it is my opinion. That he didn't say a
word since the 2015 Headies Awards' fallout doesn't mean he has not
felt like talking. So, if he said he was better than Lil Kesh, it was
just an expression."
Do you find JessyNaija useful? Click here to give us five stars rating!
---
No one has commented yet. Be the first!